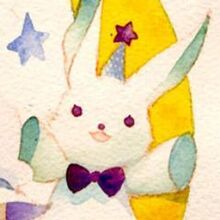 Migi is the original character designer for Sarazanmai.
The Kappa Trio
Edit
For Kazuki, she was tasked to make "a plain-looking boy".
For Toi, she was tasked to mak him "ugly cute". It was also the most difficult character to design.
For Enta, she decided to have him wearing glasses so that he would be more recognazible.
Reo & Mabu
Edit
They are supposed to be wearing the top of Japanese policemen, and the pants of policemen in foreign movies (presumably American movies).
Sara Azuma
Edit
She had to redesign her multiple times, because Ikuhara and her disagree on what makes a bishojo. Sara Azuma is more the vision of Ikuhara.
Chikai Kuji
Edit
At first, she attended to make him look like a delinquant (she even headcannon that Toi tried to copy the style of his older brother). However, Ikuhara told her that he wasn't a delinquant, and the design was scrapped.
Image Gallery
Edit
Community content is available under
CC-BY-SA
unless otherwise noted.