Welcome to the Sarazanmai Wiki!
The Sarazanmai Wiki that anyone can edit to detail official content!
We currently have 4,934 edits made and 165 articles! Created since May 22nd, 2019, regardless of your skill level, come take part in expanding the wiki!
Welcome!
The Sarazanmai Wiki details everything on everyone's favorite Kappa related anime! Discussions, blogs, message walls and other user spaces can have what they like, the articles pages are for official content for this Sarazanmai encyclopedia so enjoy taking part in all areas! Yes, there are spoilers both in text and images, everywhere, you are welcome for the warning!
Overview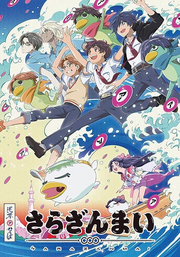 Middle school students Kazuki, his childhood friend Enta and transfer student Toi are transformed into kappas. The one responsible for stealing their shirikodama is Keppi, a self proclaimed first heir to the throne of the Kappa Kingdom, who wants them to battle kappa-zombies. In order to defeat them, a loud cry of "Sarazanmai" must be said and one is granted a Dish of Hope upon victory. The three need to connect in order to achieve this, complicated in that each time they utter the term, one of their secrets is revealed.
How do you extract desire? How do you stop kappa zombies? Kero. Make sure to protect your shirokadama. Remember to watch Asakusa Sara TV for the Lucky Selfie of the Day! Dish!
Latest Activity
Featured Image
Official Sites
Twitters!
Discussions & Blogs
Hope you're doing great ! (And happy birthday to Keppi !)
Something to share?

Create your own blog now!